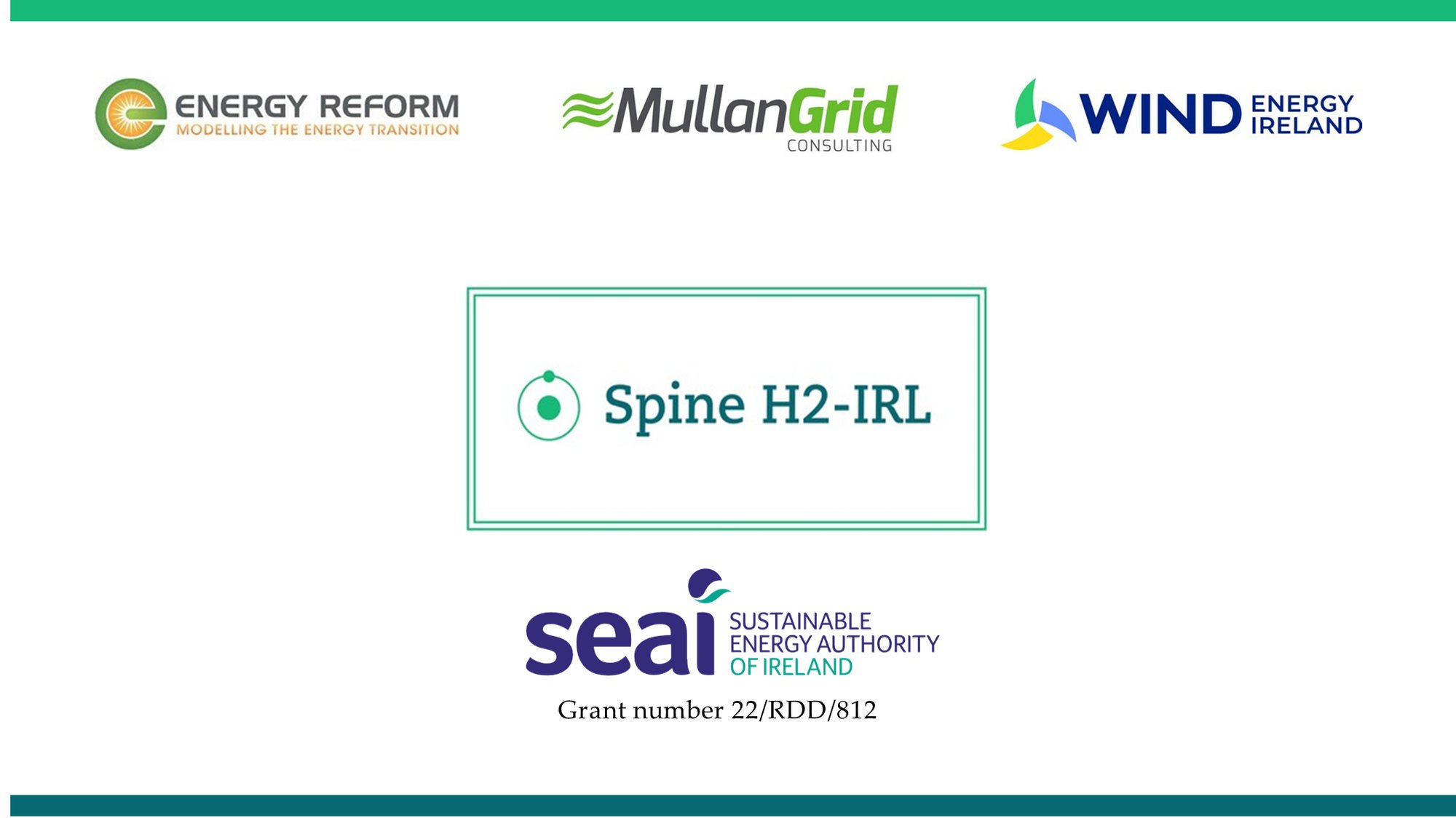 Introduction
Previous research studies comprehensively show that hydrogen can potentially play a significant role in decarbonising the Irish energy system. However, there are key unanswered questions around security of supply, resiliency, and system flexibility service requirements.
The Spine H2-IRL project aims to extend the existing models and analysis to provide concrete policy guidance on these critical issues. The 18-month project will discuss the potential of hydrogen-based technologies in Ireland's energy system. The partners are Energy Reform, Mullan Grid and Wind Energy Ireland. Throughout the project, collaboration with other organisations (Dublin City University, Corre Energy BV, Maynooth University, Carbon 280, VTT, University College Dublin) and bodies (IEA Wind Task 25, Global Power System Transformation Consortium) will also occur.
Project Duration
June 2023 - December 2024
Objectives
The high-level aim of the project is to address some of the key unanswered questions surrounding the potential role of green hydrogen in the future Irish energy system, directly addressing Topic 13 of SEAI's RD&D call. This will involve the following lower-level objectives:
In coordination with SEAI and key industry stakeholders, establish the state of knowledge concerning the role of green hydrogen in the Irish energy sector and identify knowledge and policy gaps.

Review existing models and methodologies and develop a coherent study methodology and associated set of assumptions and scenarios that will comprehensively address the key




questions of energy security, reliability, flexibility and infrastructure development

Develop open models suitable for studying the flexibility, security of supply and grid aspects of green hydrogen in the Irish energy system

Carry out state-of-the-art modelling to address the knowledge gaps and thoroughly verify and validate results

Synthesise results, develop strong policy recommendations and disseminate widely to the industry
A strong partnership has been established along with a network of national and international collaborators. The project partners, Energy Reform (ER), MullanGrid (MG) and Wind Energy Ireland have been active in the hydrogen space and bring together a complimentary set of experience and skills. MullanGrid will inform modelling and grid assumptions along with the market knowledge and pricing aspects. MullanGrid will also contribute the knowledge of the DS3 program and inform the flexibility assessment task. WEI will facilitate sharing of insights, cooperation, and networking between partners. They will provide access to additional expertise and essential data for the project team. Applying communications, media and event experience, WEI will expertly execute the dissemination of results across a spectrum of stakeholders. The collaborator network includes key organisations and individuals that are playing a significant role in hydrogen development internationally.
Work Packages
WP1: Project Management and Administration
WP2: Model Review, Specification and Scenario Development
WP3: Open Model and Tool Development
WP4: Modelling of Green Hydrogen in the Irish Energy Sector
WP5: Open Approach and Dissemination
Deliverables
WP2: Model Review, Specification and Scenario Development
2.1:Literature Review
2.2: Methodology, assumptions and data
2.3: Technology Assessment
2.4: Future SOS, Resilience and Flexibility System Services Requirements
2.5: Infrastructure Scenarios
2.6: Scenario Specification


WP3: Open Model and Tool Development
3.1: Reliability Assessment Model Development
3.2: Flexibility Assessment Model Development
3.3: Network Model Development
3.4: Pathway Model Development


WP4: Modelling of Green Hydrogen in the Irish Energy Sector
4.1: Pathway Modelling
4.2: Flexibility and System Services Assessment
4.3: SOS and Reliability Assessment
4.4: Model Validation and Verification
5 Open Approach, Communication and Dissemination

5.1: Communication and Dissemination
5.2:Open Model and Data Deliverables
5.3: Synthesis, Report Writing and Policy Recommendations
Our Funding Body
This project has been supported with financial contribution from Sustainable Energy Authority of Ireland under the SEAI Research, Development & Demonstration Funding Programme 2022, Grant number 22/RDD/812
Spine H2-IRL Webinar
WEI, Energy Reform, Bord na Mona and DECC,
15th September 2023
WEI as the lead dissemination partner for the project, organised this webinar to introduce the project and its progress to date. With the launch of the National Hydrogen Strategy, it seemed like a great opportunity to invite other key stakeholders to participate in the webinar to discuss the future role of Hydrogen in the energy system."
In this recording you will hear from three speakers representing DECC, Bord na Móna and Energy Reform
Connect with Spine H2-IRL
To comprehensively address the security of supply and flexibility services aspects of the energy system, detailed models need to be developed and tested. Consultation with stakeholders will be carried out for the full duration of the project. Get involved with the project today.